An Overview
The perfect climatic conditions in India, unquestionably, makes it the second largest agricultural production nation. With the massive population like India, it sometimes get hard for the farmers to fulfill the requirements of people for organically grown crops. For this reason, they rely on the best-in-class agricultural products for achieving better crop yield.
Krishna Agro Centre
assists them with the same by trading and wholesaling
Thiamethoxam 30% FS Insecticides, Bispyribac Sodium 10% SC Herbicides, Antibiotic Fertilizer, Boron 20% Micro Fertilizer, Amino Acid Plant Growth Regulators
and other variety of insecticides, pesticides, plant growth regulators, herbicides and fertilizers under one roof. As a
trader, exporter
and
wholesaler
, we join forces with the reputed pesticide/fertilizer/herbicide/plant growth regulators manufacturers and source the best from them without any hassle via our well-managed supply chain network.
Experienced
Miracles do happen but it takes years of hard work to make them happen. One cannot achieve anything, if one does not believe in something. With our belief in being the best business partner, we commenced our business functions in the year 2009. Although it has been over a decade, we still work relentlessly to remain competitive with the changing market scenarios. For the same reason, we keep upgrading our business strategies to keep up the interest of our customers in us. Hence, they repeatedly buy Antibiotic Fertilizer and other agricultural products from us.
Choose Us Because..
We follow fair trade policies to maintain transparency in our business deals and earn the loyalty of our customers, employees, vendors and shareholders.
We focus on safe, doorstep and prompt delivery to ensure that the farmers never have to struggle in accessing the products that can render them life changing experience.
We source our Antibiotic Fertilizer and allied products from the trusted vendors who are well aware about the Indian climate, soil fertility, crops, etc.
Customer priority is our primary objective but we never compromise with our business morals. Therefore, we run our business on the grounds of morality.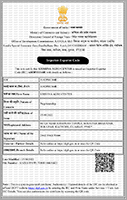 Read More